Recap
The goals from Mark Donnelly:
Att: 794
Match Report by Peter Thomson
Pollok returned to Newlandsfield as the home team for the first time since January – albeit they had played Maryhill as the away side on the hallowed turf in the league cup – to face Kilbirnie Ladeside. It was match day 30 in the West Of Scotland Premier League for Pollok who remained top of the table against opponents who were fast approaching the last chance saloon in their fight against relegation.
With Menzies missing due to family commitments and Sideserf suspended, the centre of the Pollok defence was once again re-jigged. Bradley was in and McGregor dropped back from midfield with Horne regaining a starting berth.
A minute's applause rang round the ground as the crowd of almost 800 paid their respects to Pollok fan Fiona Kirkwood. Taken way too soon.
After some early Pollok pressure it was Kilbirnie who were the first to have an attempt on target. In the sixth minute their left back unleashed a right foot shot from outside the box which had Longmuir flinging himself to his right to tip round the post. The resulting corner was firmly headed away by McCann.
After another period of sustained Pollok pressure during which the most notable attempt at goal was a Duff header which had all its' pace removed by a deflection thereby making it a comfortable save Kilbirnie once more broke up the park in the twentieth minute. This time a sweeping move saw their midfielder presented with a real opening but he swept his shot harmlessly wide.
Pollok continued to probe with Grant looking lively and their pressure paid off in the thirty-sixth minute. Horne's deep corner found McGregor in space and he headed against the post. Wharton's effort on the rebound was blocked and fell once again to McGregor in space. He looked up and flighted a beautiful ball to McCann who firmly planted his header into the bottom corner from eight yards out.
On the stroke of half time the home side doubled their advantage. A perfectly weighted pass by Wharton found Grant in space. His low cross into the box was missed by the centre half and Forde received the ball in splendid isolation. He took his time to control the ball and set himself before calmly stroking it into the corner of the net. It was a merited half time advantage.
The home side looked to put the game to bed early in the second half. A long ball by Wharton was misjudged by the defence and Forde was able to nip in and round the keeper. His cut back found Lyon but his shot – under pressure – went over the bar.
Pollok then forced a series of corners with the best effort coming when Grant played in a low one and it broke to McCann. His snap shot was well saved and the keeper reacted quickly to block Forde's effort on the rebound. McGregor was next to threaten with an overhead kick from a Wharton long throw but his acrobatic effort could only find the side netting.
McGregor and Wharton were involved again just after the hour mark but unfortunately it led to a Kilbirnie goal. The sun had come out for the second half and perhaps got in Wharton's eyes as he went to head away a long clearance from the keeper. He missed the ball and McGregor – assuming Wharton would head away – momentarily lost his man allowing Frizzell to get in behind and calmly slot the ball past Longmuir.
The goal gave Kilbirnie a huge lift and the game was a real contest once more. However it was still the Southsiders looking the more likely to add to their tally. Forde saw a free-kick and a snap shot from a Grant cross both well saved whilst at the other end Kilbirnie were struggling to get their attempts on target.
With time almost up Stuart McCann headed a pass to substitute Graham. He slipped the ball into the path of fellow substitute Gary McCann whose first touch created space and his second touch produced an accurate right foot strike which went in off the post. A goal whose celebrations included a little bit of relief as Pollok confirmed a 3-1 win.
Despite the blip in the middle of the second half it had been a deserved win from the home side and a respectable performance as they looked to regain some momentum for the run-in. Both McCann brothers on the scoresheet was a lovely sight for the Newlandsfield faithful at the end of a decent afternoon's entertainment.
Highlights from Mark Donnelly:
Murdo's post-match view: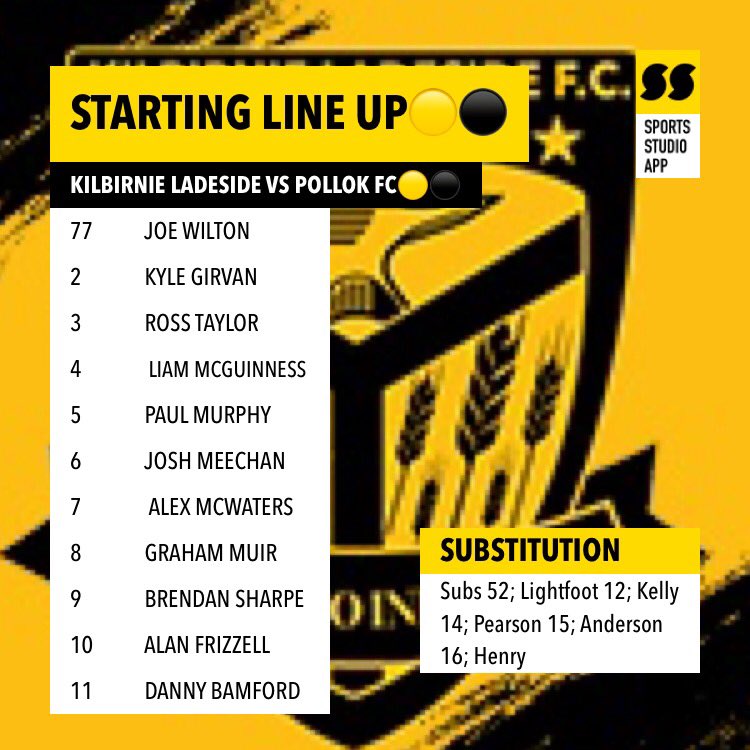 Pollok return to Newlandsfield after a run of away games this weekend. The last home league game was against Benburb on January 29th. This weekend we welcome Kilbrinie Ladeside to Glasgow.
Last weekend, the 'Lok travelled to Denny and knocked out Lowland League side University of Stirling, 3-1, in the South Challenge Cup, goalscorers were Adam Forde and a double from Stuart McCann. Kilbirnie had a free weekend.
The Blasties currently sit 15th in the WoSFL Premier Division, with a record of 8 wins, 7 draws and 16 defeats. They are unbeaten in last six games, four draws and two wins, a 5-0 at home to Hurlford and their last match when they beat Cumbernauld United, 2-0.
Pollok have a good recent record against Kilbirnie with four wins in the last 5, Kilbirnie with the win in the other. Last time out, Pollok left Valefield Park with the three points after a 2-0 win, goals from Jonathan Lyon and Bryan Wharton.
A reminder to fans that alcohol and Pyrotechnics are banned from Newlandsfield and ask all fans to observe this request, security will be in place to ensure compliance.
Their will be a minutes applause before the game in memory of Fiona Kirkwood (née McCulloch). Fiona sadly passed away midweek and was a big Pollok fan as well as daughter of secretary Stuart and committee member Alice McCulloch. The thoughts of everyone at the club are with Fiona's family and friends.
Details
| Date | Time | League | Season | Full Time |
| --- | --- | --- | --- | --- |
| March 12, 2022 | 14:00 | West of Scotland Football League Premier Division | 2021-22 | 0' |