Many of you will have never met Mark Donnelly at a game, as he tends to be looking down upon you from on high. This is nothing to do with any sense of aloofness on his part, but as Pollok's cameraman, he observes most games from atop a gantry and behind a lens. Many of you will have watched his stellar work on YouTube to see the goals you missed while you lingered by the pie hut, and as well as filming matches, Mark is also a keen historian, populating his Lok of Ages blog with fascinating insights into the stories and personalities of Pollok's storied 114 year history.
Below he shares his best memories as a lifelong fan, cameraman, and historian:
I've heard some great stories of how people found themselves supporting Pollok over the years. What brought you to the 'Lok?
My dad and my brother Martin had been going along to games since the mid 1980s, and I joined them when I was old enough towards the end of the decade. The service from the bus stop nearest our house dropped us off right outside the ground.
What was your first ever Pollok game and what are your memories of it?
I don't remember too many of the early games I was at, but I was at the 1990 Sectional League Cup final win over Arthurlie at Fir Park. Again, I have no memory of the game or the drama of the penalty shoot-out, other than the fact that it was freezing! The first game I really remember was a 9-2 Sectional League Cup win over Benburb in 1995. The core of that squad would go on to win the Scottish Junior Cup two years later, so it was a good time to start watching.
You've been to a fair few games and witnessed some famous moments, but what is your best memory as a Pollok supporter?
One that sticks out was the league clinching win against Glenafton Athletic in 2008. It was a dramatic 5-4 win on a Friday night, and I remember being physically drained after it, especially after Glenafton took an early 2-0 lead.
When did you start filming the games, and how does it affect your experience of watching Pollok?
The first game I filmed was a 2-2 draw with Maryhill back in 2006. The fabulous John M would normally film the games, but he was having difficulty getting over to this one and I stood in for him. The initial years were standing in for John or Davie Brown. It affects watching significantly as it is hard to get as emotionally invested in a game when you are concentrating on filming the action.
What has been your most challenging ground to film at?
Too many to mention! Basically any ground that has little elevation is a challenge, while other grounds, such as Glenafton or Beith, are a lot easier to film at.
What is the best moment you have caught on camera?
I wanted to try and be clever with this one, but it has got to be Jordan Longmuir's goal against Kirkintilloch Rob Roy last season! For thirty years I had waited to see a Pollok goalkeeper score from open play, and it was a bonus that I was filming the moment it happened.
You are responsible for the excellent Lok of Ages blog which chronicles the history of Pollok and key figures in the club's history. How did this role as an amateur historian come about?
It started out of curiosity. The Petershill programme for years always mentioned that we had four players who went on to be capped by Scotland at senior level. Two of them, Bob McPhail and Bobby Collins, were easy to find information on, but the other two, Charlie Thomson and Sandy McNab, not so much. A few visits to the Mitchell Library later and it became strangely addictive. Many people have helped with this over the years, but I would like to give special mention to Jim McNaught for patiently answering any queries that I have bombarded him with over the years!
Identifying long lost graves sounds like laborious work. What was the most challenging one to track down?
It can be. Information on early Pollok people is pretty limited, therefore I am very grateful to have the support of a willing research team, my brother and Mandy Higgins, who have been an enormous help in this. The most challenging is one that I have had no success with so far, the aforementioned Charlie Thomson. I have tracked down the final resting place of Pollok's other full internationals, but Mr Thomson is proving somewhat elusive.
What has been your greatest/most rewarding discovery?
In terms of the historical research, adding a further two names to Pollok's list of full internationals, Jimmy Crapnell and Eric Smith. In terms of the grave research, probably discovering, by accident, Bob McPhail in Neilston Cemetery. He was cremated and therefore I hadn't considered that his ashes may have been interred somewhere, so to find that was very pleasing.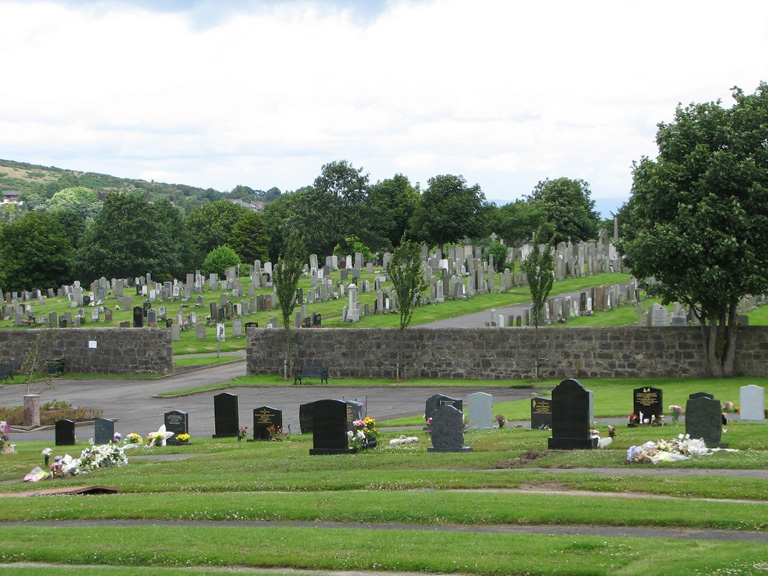 Finally, with Pollok now being a licensed SFA member, what are your hopes for the next five years?
To see the club continue grow both on and off the field. The progress in ground improvements over the last 12 months to obtain the licence has been astonishing, and that has been reflected with an influx of new members joining. Hopefully we continue to move in a positive direction and we can enjoy many more nights like the Annan and Ayr game in the years to come.
You can read more about Mark's work uncovering the history of Pollok FC by visiting his Lok of Ages blog.
Written by Paul Regan and originally published in the Pollok v Annan Athletic matchday programme in October 2022.
Featured photograph by Ross MacDonald.